Andrew Glennerster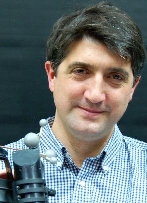 Professor of Visual Neuroscience

Phone: +44 118 378 5554
Fax: +44 118 378 6715
Address: School of Psychology and Clinical Language Sciences, University of Reading, Reading RG6 6AL
Satnav postcode: RG6 7BE
Email: a.glennerster 'at' reading.ac.uk
Room: 1S22



I study human vision, particularly 3D vision. My main interest is in how the visual system could represent the shape of surfaces and the layout of a scene when the observer is free to move. I trained as a doctor in Cambridge and studied stereo vision for my DPhil. in the Psychology department at Oxford.



I head an Immersive Virtual Reality Laboratory at the University of Reading to study spatial perception and motor control in freely-moving observers.

Current lab members: Peter Scarfe, Stuart Gilson, Jenny Vuong Mark Adams

Collaborators and previous members: Ellen Svarverud, Lyndsey Pickup, Andrew Parker, Suzanne McKee, Brian Rogers, Andrew Fitzgibbon, Miles Hansard, Tim Andrews, Yury Petrov, Maarten Hogervorst, Lili Tcheang, Sam Solomon, Jenny Read.


Some recent publications (more):
wiki